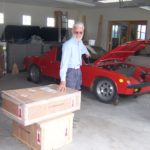 This is the brainchild of Torkil Olsen, Danish Electrical Engineer…the vehicle is special, and has the potential to be even more exciting!  Combining Lithium Ion lightweight batteries and a motor designed by AC Propulsion (licensed toTesla) this car will be able to accelerate 0-60 mph in 4 seconds!  Now we need to design the physical installment of the batteries!  Click here to learn the specifics!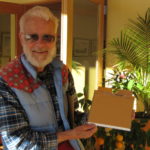 Torkil has been committed to energy conservation since he arrived on July 4th, 1967 to San Francisco, California.  He grew up in post WWII Copenhagen Denmark, where bicycling everywhere was, and still is a standard of conveyance.
Torkil fell in love with California from the beginning, and enjoyed working at Fairchild Semiconductors, his first employment in the Silicon Valley (South San Francisco Bay Area). 
Torkil and I had our first date in 1977, to go skiing at Squaw Valley…and this is the car that transported us to a wonderful life together!